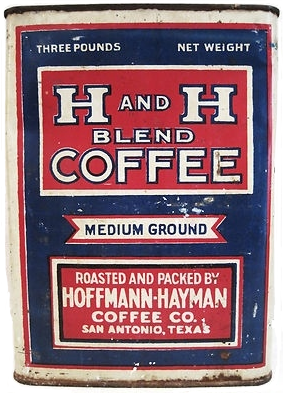 The Hoffmann-Hayman Coffee Co. from San Antonio, Texas was founded in 1899 by William R. Hoffmann and operated until 1972. He married Wilhelmina Menger, a granddaughter of the Menger Hotel. After Mr. Hoffmann passed away in 1912, she brought her brothers in to run the coffee company.
They roasted coffee as H and H Blend, Master Chef, Border, Broncho, Menger Hotel, Menger Peaberry, Sam Houston, and Texas Girl. Other private labeled brands for clubs and hotels were created. The coffee was originally packaged in bags, tins, and buckets. Later, they used vacuum-packed Crystalvac Jars from the Three Rivers Glass Company. H and H Teas, Cocoa, Spices and Extracts were sold.
We have moved our business into their old factory near the Alamodome here in San Antonio and are collecting memorabilia for a historical display.
We're looking for anything related – advertising, products, photographs, books, stories, postcards, newspaper clippings, signs… Their original factory equipment would be a dream find.
If you'd like to help please contact us!!
---
Site Technical Setup