H and H Coffee 3 Pound Jar
Richard, the eBay seller we recently bought a Master Chef Coffee tin from, contacted us after he'd found our web site. He possessed another H and H item also from the estate sale, a large glass jar with handle. He wanted to donate to the collection and then personally delivered it to San Antonio. Here is Richard's jar.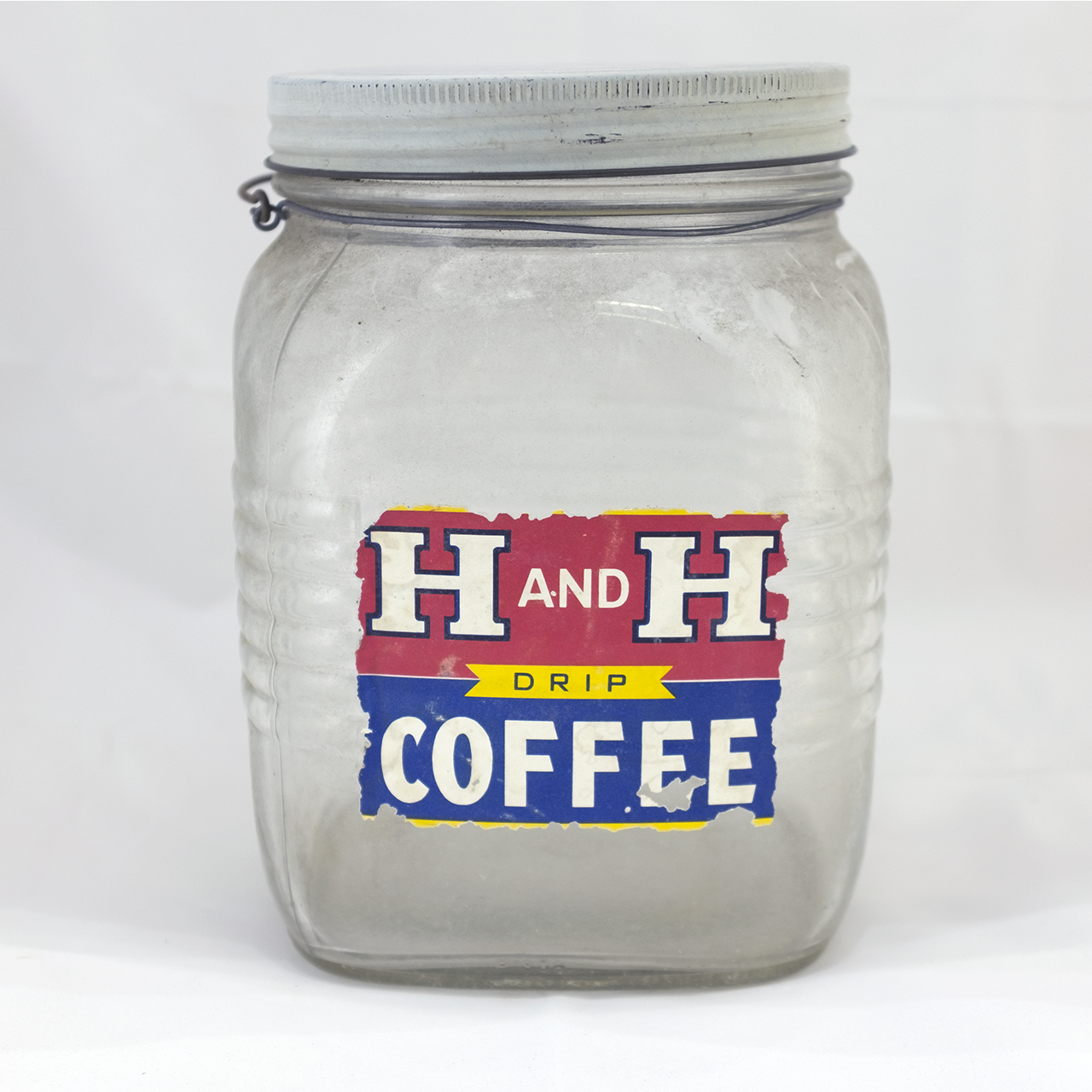 At first, the size and shape of the jar was different than we expected. Most of the glass jars in our collection are Crystalvac versions in clear glass,tall, and rectangular. While inspecting the glass markings on the bottom, they matched the "Diamond - Circle - I" logo like the other H and H jars.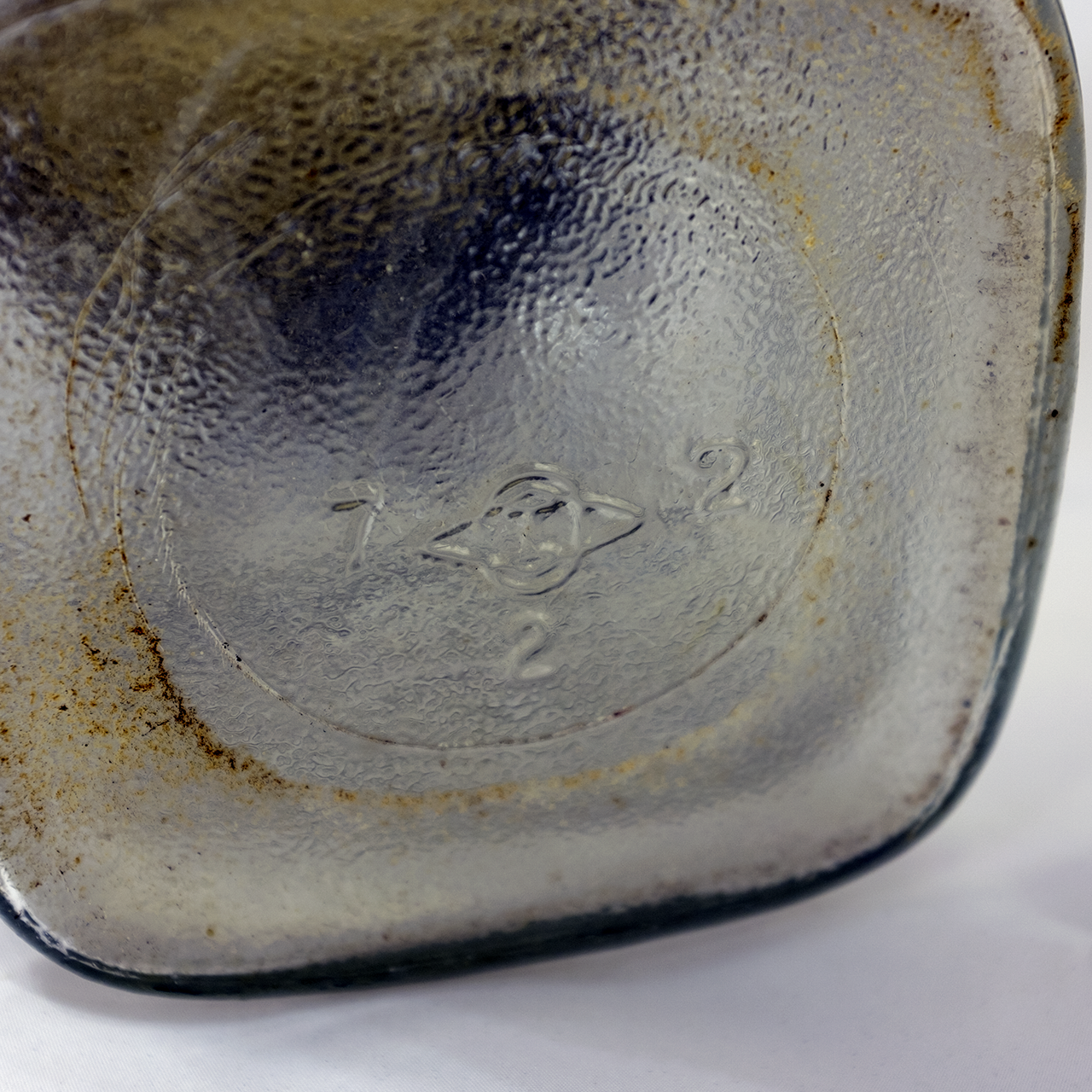 Glass Marks
We have told the story that these jars were made at the Three Rivers Glass factory. This had been announced in the newspaper in the 1930's when Hoffmann-Hayman transitioned from tins to vacuum packed glass jars.
Recently, a small Crystalvac jar appeared with the "3 Rivers Star" bottle mark on the bottom. Now that there is this new jar, we went back and examined all the glass jars we have and learned some more. All of our Crystalvac jars are clear glass not amber. All of the large jars and two small jars have the "Diamond - Circle - I" marks. Only two of the small Cystalvac jars actually have the Three Rivers marks.
Were large jars made at the Three Rivers factory? What does "Diamond - Circle - I" mean?
After searching around, we eventually found a site dedicated to Glass Bottle Marks. We were able to confirm the Three Rivers markings and have examples of all of them in the collection.
The "Diamond - Oval - I" mark appears on Owens-Illinois Glass Company. According to their notes, the numbers around the mark can be translated. The number to the left is their plant code. Most of our jars have the plant number "7" which means Alton, Illinois, not Texas. Glass had been made in Alton since 1873 but since the "oval" mark represents the merger of two glass manufacturers, it wasn't used until 1930.
The number to the right is a year date code. Our jars all have single digit dates codes which means they are from the 1930's. This jar is coded for 1932.
The number below the diamond is the mold number. This one is a "2". Most of our other jars are missing this code.
Now we have learned that Three Rivers Glass designed and manufactured H and H Crystalvac jars but maybe only the small ones as announced in 1932. If the glass marks are interpreted correctly, we have some Crystalvac jars made with Owens-Illinois Glass company's molds with a date code of "2", 1932, and an "8", or 1938. If this correct, how did glass jars end up being made in Ohio? Is there a connection to the Ball Glass Company? Did O-I take over for Three Rivers when it was shutdown in 1937? What is the age of youngest Crystalvac jar? Did O-I manufacture amber glass jars?
Labeling
What we immediately came to mind when we saw this jar from Richard was the other square jar Albert, our local picker, had turned up. Both are squatty jars but use the same lids as the large Crystalvac jars. Richard's has a handle, but had been attached with wire, not manufactured on the jar. Their labels are very similar in overall design but there are some noticeable differences, like extra text, blacked out areas, and bug chews versus worn spots.
Albert's jar had the square design as one from Duraglas. In researching O-I Glass, we learned that Duraglas was a trademark they used after 1940 so these square jars are related. The H and H Coffee brand from the 1920's may have been updated with a new label and sold into the 1940's.
We'll keep collecting puzzle pieces. Thanks again Richard!